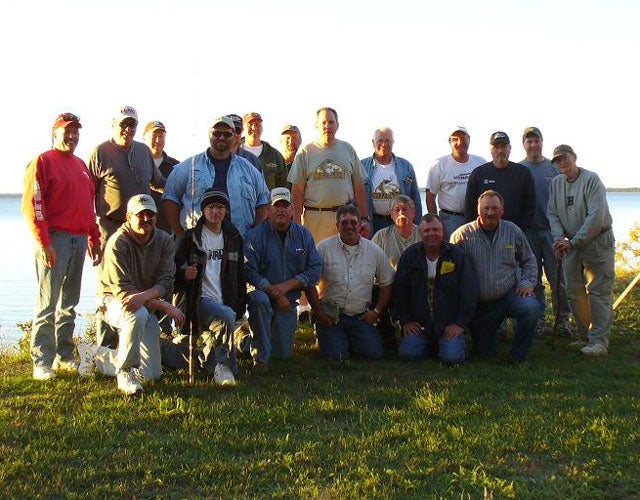 The 3rd annual Walleye Central Midwest Get Together went off as planned on September 10,2006 at High Banks Resort on Lake Winnie with about 24 anglers. Mike Ayeaye and his crew actually got there a couple of days ahead of time for some quality "pre fishing".
We again faced some weather issues with strong easterly winds and low water levels due to drought in North Central Minnesota, but we were able to find a close launch to save our props(right Mike Ayeaye).
Fishing was a bit tougher this year from last, but even though the fish fry was a bust, the burgers and adult beverages at High Banks made up for it all. Again Rick, Kim and their staff did a masterful job for us.
On Saturday we were able to find fish on the West shore using cranks though Burr and gmerz hit some "honey holes" for some really nice eyes. I guess local knowledge does pay off. To gmerz, I promise to bring my medical pack this year to remove hooks if you give me the GPS coordinates you used!!!! We won't talk about that any more!!!!!!
Saturday night brought a fantastic BBQ rib dinner catered by the Gosh Dam followed by some prizes donated by Walleye Central, Snap-On Tools (my trap team) and 2 custom rods built by Skindog and his brother Mike. The rod winners were Burr(I'll teach you how to use it this summer) and Devon, a youth fisher there with his dad for the first time. Almost forgot to thank High Banks for the donated items too!! Sorry Kim...
For those of you that missed this year, and are planning on next year, contact Kim at High Banks, as she will again coordinate the lodging. The dates will be September 14-16,2007.
We all look forward to next year as a bigger and better Get Together, but I need help and input from all of you, so please let me know, I need all the help I can get!!!!
Again, thanks to Mike Ayeaye for the signage (I won't forget them this year), Skindog and Mike for the custom rods, Marc Hagel for the Snap-On merchandise, Scott Golden and Kim and her crew.
Mark your calendars for next year, September 14-16. Several of us will be going in a day or two early so feel free to come on up anytime.