The 4th Annual Walleye Central Midwest Get Together got off to a rousing start on Friday, September 14 at High Banks Resort on Lake Winnibigoshish as we stood having coffee in the early morining at the boat ramp with the temperature at a chilling 29 degrees and horizontal snow beating against us....What a great way to start the weekend. There were also SSW winds of 20-29 mph!!!!!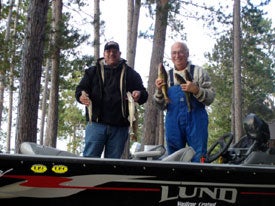 Most of us decided to launch at a more protected area on the north end of the flowage in Big Cut Foot Sioux and were able to spend the day on the water chasing fish.The bite was tough to say the best, but the boat of tbomn and REW managed to put on a clinic on how to catch fish in tough conditions. Unfortunately, the Friday night fish fry turned into the Friday night burger night, but still no complaints from the participants. Still can't believe we actually drank cold adult beverages in that weather, but we are a tough group.
Saturday morning broke with the same windy conditions, but what we were all excited about was the boat Demo Day, and a chance to drive the 2008 rigs from Ranger, Lund and Yar-Craft. The dock at High Banks looked like a new boat show, with about $500,000.oo in new boats tied to the main dock. There was a fantastic turn out from "walk-ins", and well over 100 test rides were given. The most interesting test ride was from our own Reno, who when he falls for a boat, he REALLY FALLS!!!!! How cold was the water Steve?????
Had a nice break at lunch which was generously provided by Tim Mertens and EngineSteer. He and his tech crew also installed 5 current boats with their system to try out, and I don't think any of them came off at the end of the weekend. Great job Tim!
The fishing was a bit better on Saturday with, as you guessed it, REW holding another successful day, but we all had fish in the live wells. REW, next year I will have a margarita maker in my boat just for you!!!!
Saturday night was very special as Lund catered a great BBQ rib dinner for all the participants and venders followed by very nice door prizes and a first this year, a silent auction to benefit the Deer River, MN Food Shelf.
I am proud to tell you that of the 50 plus participants, we were able to raise $1,000.00 for the food shelf.
In closing, I have to give thanks to so many people that I will list them here and hope I haven't forgotten anyone.
George Feder and his sponsors, Ranger, Yamaha, Minn-Kota, Humminbird and Fig Rig Rods, for the tents, tables and chairs, door prizes and silent auction prizes.
Tim Mertens of Engine Steer for providing a much needed box lunch on Saturday, and for bringing his tech group to set up the boats. George is also a pro staffer for EngineSteer.
Lund for the fantastic BBQ dinner on Saturday night, and for the silent auction items, thanks Tom Mc Nair, Kurt Kainz and the entire Lund crew.
Kriag Sjodin, the old Skindog, and his brother for the rods from Thone Bros. for door prizes and silent auction.
Fig Rig rods for their generous donation for both door prizes and auction items.
Kim and Rick of High Banks for their assistance in coordination of the event and generous door prizes and auction items.
Molly and the crew from the Gosh Dam for another fantastic BBQ dinner.
Scott Golden for the support and door prizes.
Mostly, thanks to YOU for making this the best GTG to date...Hard to believe that four years ago, there were eight of us sitting on a picnic table not realizing what this
could really become...
Don't forget next year:
September 12-14, 2008 at High Banks.....Several cabins have already been spoken for, so call Kim to get on board NOW!!..See their web site under our business directory here on WC........
Have a safe rest of the year, and I'll see you next year.
Tyee Guy
---------------------------------------more pictures and larger pictures---------------------------------