2008 WCGT Dinner/Tournament
Oct. 24th-25th, 2008
Photos by Juls and Dan Gies
2008 Walleye Central Get Together Charity Dinner/Raffle
Walleye Central would like to thank everyone who made it to the 2008 WCGT Charity Dinner/Raffle this year! Thanks to all of you, it was a success!
Scott will be sending a check to the St. Jude's Children's fund this year.
(From Scott: I'm not done with the math yet but it looks somewhere around $8,000 bucks this year! Everyone should be very proud of their part)
We had somewhere between 400 and 450 people attending this year, which was outstanding considering the less than perfect weather that was forecast for the area that weekend.
We would especially like to thank all the sponsors and everyone who made donations for the raffle this year. Without your help this event wouldn't happen, so "Thank you!"
Sponsors and Donators include:
Ranger Boats, YarCraft Boats, Evinrude, Mercury, I-5's, Navionics, Minn-Kota, Humminbird, Zink Calls, Larsen Sales (Skeeter), W.L. Baumler, Co., Off Shore Tackle, Lindy Little Joe, XTackle, Sportsman's Outpost/Den Braun, Amish Outfitters/Frank Kittrick, Scott Golden, Pro King Spoons, Reef Runner Tackle Co., Garmin, StarCraft Marine, South Shore Marine, FLW Outdoors, Angler's Insight Marketing, HiWay Bait and Tackle, Port Clinton Prop Repair, Michigan Stinger, Silver Streak, Blue Dolphin/Gary Zart, Ranger Nets, Pro-King Spoons, Okuma Fishing Tackle, Great Lakes Angler Magazine, Mikes Taxidermy in Pt. Clinton, American Angler Filet Knifes, Jerry Cox and Vic's Sport Center.

If we missed your donation/name in this listing, please let us know. We want to make sure everyone gets listed.
A big thank you to the City Of Huron
http://www.cityofhuron.org
and the
http://www.fishhuronohio.com
crew for all their hard work in helping make this event run as smoothly as possible.
None of this could have happened without the help of Rick Mesenburg who was a critical factor in bringing the Walleye Central Get Together back to the city of Huron. Rick offered up his catering hall for us to use (
http://www.mesenburgcatering.com
), and offered us a discount that allowed more money to be sent to the charity than we would have otherwise been able to send.
His service team was incredible and worked really hard to make the dinner a comfortable and enjoyable event. Thank you Mesenburg Catering Team!
Another big thank you goes out to the Municipal Boat Basin (
http://www.huronparks.org
) where we were able to hold the Ranger/Evinrude Demo rides and the Bragging Rights Tournament weigh-in!
Speaking of the Bragging Rights Tournament...let's take a look at who gets to do all the bragging until next year's event: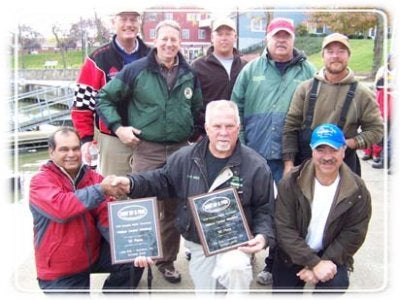 1st Place Team with 37.72 pounds: Keith "Pooh Bear" Unkefer, Bill Coban, Steve Swaisgood, Wayne Farnsworth, Bill Patalon, Jeff Anderson, Tony Carreira, and Greg Horoky
Juls: Congratulations on your first place win gentlemen! You want to our readers on WC what you were doing out there today?
Team: We were having the time of our lives today! "Purple Pooh Bear" Stinger Spoons was a hot color today (purple/chart.) run 65 and 80 foot off of big boards.
**Team Pooh Bear had the 3rd place Big Fish (9.80#) for a cash prize of $125.00
2nd Place Team with 32.30 pounds: Jim Chamberlain, Rick Hehn, Matt Hehn, Cort Hehn, and Steve Heckler (Vetspet)
Juls: What were you fellas doing to catch your fish today?

Team member: We were fishing with our 25' Carolina right into the wind, in 5-6 footers...pulling Reef Runners back 100 foot. We were also running 40 Jets with spoons along with big divers & spoons. Silver Streak spoons with a chartreuse back were very very good. "Cranberry Frog" spoons and "Cat/Dog" Reef Runners were our top baits today.
3rd Place Team with 30.48 pounds: Ed Stachowski, Chris Kinzler & Wayne Van Dyke
Juls: What were you doing to catch your fish today.

Team member: We were about 14 miles straight North of Huron, pulling crawlers at 1.1-1.2 mph...30-50 back on 2oz inlines. We used big number 6 and 7 blades in oranges and pinks....green...you name it. Nothing special. We just got into a good pod of fish, that's all.
4th Place Team with 30.30 pounds: Rick McGuckin, Josh O'Neil, Jim Wilson,
Tom Driscoll, & Mike Prodracky
Juls: What were you guys doing to catch all your fish today?

Team member: We were about 12-13 miles out...46 feet of water...pulling Dipsies with big spoons down deep. We had Reef Runners running up high, but nothing big came on the RR's.

Juls: Any colors hot for you guys today?

Team member: Anything with purple on it..."Purple Lamby Cakes" was hot.
5th Place Team 29.60 pounds: Sam Cappelli, Pete Provan, & Tom Davis
Juls: What was the secret to your success today guys?

Team member: We were pulling Reef Runners, but used mono...and pulled Dipsies with Renosky's. Purple Demon 200' back was the best one for us.
**Team Cappelli took 2nd place Big Fish (10.22#) for a cash prize of 185.00.

1st Place Big Fish: Dave Kegler and Jim Ordway
The team of Jim Ordway and Dave Kegler (pictured) won a cash prize of $310.00 for that 10.36 pound whopper shown above!
Juls: Way to go guys! How did you catch her?

Jim: Well, my partner Dave reeled that beauty in, but it was my fantastic net job that got it in the boat! (Dave starts laughing). We got them on Reef Runners today. We worked the whole water column. We saw fish high and low, but I'll tell ya...26 foot...that's where the fish were. It was just incredible!
So, until next year everyone...Brag On!
For more photos, please see the "
Get Together
" link that can be found on the Homepage of WC.