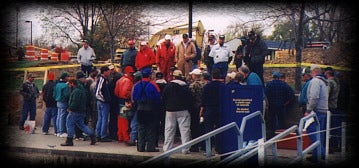 The 2000 Get-Together Story
by Sheila Ryan
As a 3-year veteran fisherman of the highly acclaimed Walleye Central Get-Togethers, I can honestly say this year's 2000 outing in Ohio proved three facts in life:
1) Walleye Central fishermen know how to rock-n-roll
2) Lake Erie rules when it comes to walleye fishing
3) Walleye Central Get-Togethers just get better and better
If you're crazy about great walleye fishing like me, then you would know why it's so worthy to come to Huron in November to fish with Walleye Central people! It's just a high-caliber good time all the way around. This year we were completely blessed with awesome Indian summer weather, boat loads of whopper-sized walleyes, and best of all - lots of really cool people to fish with. The Fish Fry was huge. You guys are all so much fun, and I love ya! Praise be done, let's shoot right to the story…
Once upon a time, there was a righteous guy named JustLookN. Pretty sure JustLookN got tired of just workn', so he bought a boat and went just fishn'. Then he bought another, then yet another bigger boat, and began taking lots of people fishing. Somewhere along the line he acquired a regular fishing partner named Bob. But JustLookN's name is Bob too, so when fishing with them together I love to say "Hey Bob!" just so neither knows which Bob I'm talking to. Doesn't matter! I did this often just for fun.
The Bobs have a regular competitive thing going. Each has his own counter on his side of the boat. Catch a walleye - put a tick on the counter. I didn't have my own counter, so I got to partake in the "Team Bob" event on Thursday. Yeah, I was on Bob's team. Which Bob? Whichever Bob had a fish on naturally! That meant I had a lot of team action. Just when I could barely reel another big walleye in (because I'd caught so many), I convinced (begged) JustLookN Bob it was my turn to net. Whammo! Look at that net slam into that walleye's head. Darn thing should've fallen right off. But you see, Team Bobs' Sheila can't put herself in the predicament of being highly RIDICULED for knocking a walleye off, so God gave her a second chance to swoop that fish in fast! Whew, thank you God. I got it. Click - another tick for Bob. High five, time for a victory beer, a little recuperation, and some tasty smoked salmon, cheese, venison sticks, and …oh no, another walleye on…280 ft. back, outside rod…OK, I'll take it! Lots of work, but what a great day. Thank you Team Bob. You're the best! Think the count was Bob10, Bob 8. Which Bob? Who cares!
Back at the dock, BIG dilemma getting the walleye from the boat to the truck to transport back to the infamous and highly used Gull Motel Fillet Tables. JustLookN packs industrial strength garbage bags for the job - splits huge catch into multiple bags. They haul 'em out looking like crippled Santa's packing bricks. Down the dock over on Airwave's boat, it takes the industrial strength of 3 whole men to unload the 100 gallon cooler loaded with 200 pounds of walleye off the boat. Man they blew it. They caught way too many 10, 11, and 12 pounders! This cooler was going to be -whoa look out there- a big back-breaker up to the parking lot. Such is the reward for a great day of fishing on Lake Erie.
Fillet time is party time at the Gull Motel. Well, sort of. You know, it's got to be tough cutting up all those fish after a long day of fishing. But hey, it's really cool they've added a number of new tables, spotlights, and water hoses for the anglers at the Gull. Guess they knew we were coming. There's Tony Puccio slicing and dicing his 28th walleye of the night. Man, he probably had to take the next day off after that one. I'll bet Linda Hall (Driftr's wife) never saw so much fish blood and guts in her life! Come on down to the tables Linda - check it out. Nah, she passes. No need for a faint that night.
Golden's here! Let the action begin. "We'll see you at JP's Downunder later for dinner. What do you mean you're fishing Team Bob tomorrow? I'm on Team Bob too! But since you're coming aboard, JustLookN's partner Bob said he'd lend me one of his Depends." Translation: fishing with Scott is a trip.
JP's Downunder is packed with fishermen (appropriately located next to the Marina), so you bet I plop down right next to all the good-looking (rugged) charter captains making plans, discussing the action, and…eating walleye of course. Scott's on a roll drinking big bottles of Coors. Cindy's doing fine on teeny-weeny bottles of Bud. Next best thing to fishing with Scott? That'd be drinking with him and listening to his hilarious fishing stories! Have another beer Scott. This is fun. Boatnut joins in, and feels right at home. How will I ever stop laughing? You guys are nuts, not me!
Friday's fishing starts out just like JustLookN plans. We head out short way from inlet (where we caught last big ones the day before), sit down, set up, and boom, boom, boom - major action on big ones immediately and it's only 7:30a.m.! Scott and Cindy are instantly inducted into the now highly popular "Team Bob" walleye cooperative of Lake Erie, and we hadn't even popped open our breakfasts yet! Scott was in walleye ecstasy. Cindy was ready for more - and boy did she get it. It was all action, action, action on the walleye for long periods of time. We caught them on everything strictly trolling all day, but seems like Fruit Loops and Fried Chicken "Reef Runners" (such silly names!) stood out above the rest. When it finally slowed down for about an hour, we thought all the fish swam away. Talk about a longggg period of time - that one hour felt like four! Then when the reeling started back up again, Cindy and I thought those walleye weighed about forty. Scott can't even get the line out past 75 ft. and he's getting slammed. Twice like that he lands them on the let-out. FISH-OHIO baby! 28, 29, 30 inchers and we're not done yet!
All of a sudden, sometime about mid-afternoon, Scott gets some sort of conservationist thought on. He takes a walleye off a line (a good 7 pounder), looks in the livewell at the pile of fish, closes the livewell, looks at his fish, then proceeds with a release ritual that about blew us away. He says, "guys I just don't feel right if I don't let at least one of these go." Sure Scott, whatever you say. Man, what's gotten into you? This is Erie dude, not some starve-stocked reservoir in Colorado! Right about then, marine radio breaks in: "JustLookN, you out there? Airwave"… "Yeah Airwave, JustLookN here, but not sure if Scott is … lots of action … Scott just released a 7 pounder"… "What?! I think you better release him"… "No kidding" - over. OK Scott, it's Cindy turn to reel in another one and show her husband how to do it! (Hehe, just kidding.) End of the day, can't remember exactly, but I believe count was Bob 17, Bob 8. Just consider WHOLE "Team Bob" 25, and that didn't count the substantial number of smaller walleyes tossed back throughout the day. Hip hip hooray. Uh oh, back to the fillet tables for more work.
We had a big fish fry Friday night at the Huron Conservationist League Hall in Huron. Good weather, and plenty of outdoor yard space for the big army of fish-fryers getting down to business cooking hoards of fresh walleye. Scott, Cindy, Airwave and I are working the front door, having a great time meeting everyone as they enter. Scott preps Cindy and I, says he's got more give-away door prizes for the free raffle than he's ever seen. Tells us everyone should be a winner. What do I think of that? Well I proceed to tell people coming in that their raffle tickets are all winners. Wink - wink. If you did not win, it's not my fault - honest. Better luck next time!
The fry turnout was fantastic! They served up fresh fried walleye for over two hours (along with a few tons of beans, cole slaw and rolls). Don't think Scott knew there would be 200+ people crammed into the small hall when the "free giveaway" raffle got underway. The assorted promo gifts were out of this world thanks to all the generous donators! When they called my number, I reacted completely natural - jumping up and down while running to the front of the room screaming "yippie baby that's me, I've never won anything ever before!" I expected to see a couple of lures waiting when I reached the front to claim my prize. Alas, it was a bit better than that. I won a Marine-band VHF hand-held radio donated by Galyan's. Way too cool, and personal thanks to Greg Wollner. Anyway, you all know how I love to make a fool of myself in front of lots of people! I am not the only person who does this. John Bergsma knows how to do it too.
Remember, this was the night before the 2-day W/C Bragging Rights tournament and there were a lot of big egos (and serious fishermen) hanging all over the place. Really, you could just feel it in the air - such braggadocios. Anyway, Bergsma proceeds to heckle Bigfoot in front of the whole hall. Bigfoot takes him on, shakes his wallet in the air, and bets him $100 he will catch more weight in the tournament. Nothing wrong with two big-name walleye pros going head-to-head in front of a crowd. Boy I got a big kick out of that!
The whole fry was a successful event. Scott, you totally outdid yourself buddy. Big thanks to Walleye Central!
Bigfoot and Judy are great. Bruce DeShano aka "Chairman" owner of Offshore Tackle was so thoughtful too with his Planer Board parts and repair setup. Scott Stecher (Reef Runners man), always a pleasure to shake your hand. I was particularly excited for Marilynn DeShano (who would be fishing with pro walleye hubby Bruce in the tourney). She secretly told me it was her "1st" tournament. You go girl! There we all were after the happy hall crowd dispersed - folding chairs, sweeping floors, and doing the clean-up thing. But the night was still young, so where would you go if you want to relax with a good size group of people? Right! - off to the big disco bar at the newer Comfort Inn on 250. Guess that was fun until music got louder and louder, and "what did you say?" We couldn't hear ourselves any longer. So we had to get Bruce out of there before his new hearing aid burst.
Back at the original Comfort Inn, a few last survivors (including Ebijack) congregate for a nightcap and some live internet posting at some awful wee hour in the morning in Scott and Cindy's room. Scott puts up the original post "We're here and life is great!" Then a bunch of us proceed to post to his note all looking like we're Golden replying to his own post. It was funny. Later and as expected, the message about our great big catches in Ohio blossomed into another useless 60 post thread delving into the moral sanctity of slaughtering large walleye. Guess one day those poor people will get a life and come on down to the Get-Together to find out the real truth firsthand.
Saturday morning Scott trotted off early to fish with team partner Bigfoot while Cindy and I slept in. We were set to meet Captain Ric Smith on board the Busy B at the respectable hour of 8:30. Once aboard, we met Ron and Terri. Terri had never caught a walleye before. Cool, another woman ready to discover the big thrill. Lookout Capt. Ric - 3 girls rootin', tootin', and ready to go! Put us on the walleye baby. And THAT HE DID. Ron did most of the driving on our trolling routes (not an easy feat in such a big boat running long-line ski boards), while Capt. Ric sweated out the 'mate' thing helping to keep all 3 squealing fishing queens busy reeling and netting walleyes all morning and afternoon. Hey men women can fish too! Congrats to Terri on those great first walleye catches. And much praise goes to Capt. Ric (my hero) who taught us all about rigging big skis, little rubber band releases, setting dipsey divers, etc… We really got into it! By the end of the day, Cindy and I both thought our arms were going to fall off. Walleye fishing on the Busy B is a highly recommended adventure.
Back at the Bragging Rights weigh-in, we found out Bruce and Marilynn DeShano really kicked some butt with a 4-fish basket weighing 40+ pounds. UNREAL! Bruce says, "Well, we got out there a little late in the morning, but we caught all these big fish quickly. So then we decided to come in early." He made it sound so easy. I think Marilynn's first tournament luck kicked in. She was really psyched up about being a part of it this year. Excellent job woman! And you too Bruce (wink). Wouldn't a basket like that in a PWT be killer?
Weigh-in was a feast for the eyes. Gargantuan walleyes come piling up to the scale from 43 teams that weighed. Scott's got these $1 laundry baskets that looked OK at first, but then after you put FOUR huge Lake Erie walleyes in them - look out and hang on that basket there, heads spilling out all over. Good dramatic effects, great pictures, and lots of mighty proud fishermen. It was really hearty fun.
Later, more fillet work for some (stock that winter freezer), showers, and a welcome dinner. There were quite a few of us dragging that night after having partied a couple long nights and fished a few long days in a row. Bigfoot did not need to bring the DUCT TAPE for me at dinner, as I put most my effort into keeping my eyes open, laughing at Puccio's comments, and finishing my whole steak. I could not wait to get back to the hotel to crash! "Sorry that's not going to happen" Scott says as he proceeds to drag us over to DeShano's hotel room to do a radio show with Gary Engberg and Tony Puccio. "Ok I'll go if you let me type up the tournament results for you on the computer while you do the radio show."
What a radio show! "Hey this is Gary Engberg and Tony Puccio from Outdoors Horizons" … "and we've got Scott Golden from Walleye Central dot-com and Bruce DeShano from Offshore Tackle here with us today in Huron, Ohio…" TELL THEM Scott, tell them how great the walleye fishing is here in November right now! They had this show all broken down into perfectly timed segments and it turned into an exciting in-depth interview. I only wish I could've heard the final show in Wisconsin or wherever in the Midwest it broadcasts on Saturday mornings at 7:20 a.m. on WHIT 1550 AM.
They finished the show and I finalized the Day One Bragging Rights tourney results on a MS Works spreadsheet on Bruce's laptop. Too tired to think hard, I forget to save the file in Excel format for Scott to pull up on his laptop. Just when I'm close to a hard-fast sleep back in my room, the phone rings real loud. Scott's over there late at night pulling his hair out trying to open the file on his computer so he can get it posted up on Walleye Central. Guess it's a no-go buddy. I screwed up. We'll have to fix it on Bruce's PC tomorrow.
Bright and early Sunday, Cindy and I are on JustLookN's 26 ft. Striper walkaround again. Another fine day, but the fish weren't coming as fast as all the days before. In fact, the girls were now a bit worn out on the rods from catching so many walleyes over the last three days. We had to let Team Bob take over the reigns, and they did a swell job catching 30 pounds for their four-fish weigh-in. Cindy and I caught 3 walleyes to weigh and 3 too many gigantic sheepheads. Those sheepheads did us in. Our arms were cooked! Land looked mighty good at Noon when we headed back to weigh-in.
It was a fine thing to see the happy Daniels couple (aka "Eyelund Man") from Michigan win the tournament. They did so well on 8 fish with almost a 9 pound average. Lookout for Ronnie Rhodes and "Gilman" Roger Gilliam who came in 2nd place. Rhodes is a hot Ohio newcomer to the walleye pro circuits to watch.
As for the Bigfoot LaCourse - Bergsma bet? Bigfoot won! He had that enviable partner Scott Golden helping him. We don't know what happened to John and his partner Rocco the last day, but they must have thrown in the towel since they were a "no-show" at Sunday's final weigh-in.
All said, done, and fished - I always wish the get-together would last longer. It had to end again, and everyone packed it up for home. I headed up to Michigan to see my family for a day before flying back home to Florida. I must have spent a week or more after that dreaming about all the fun walleye fishing we had on Lake Erie. It's really UNFORGETTABLE. My old friends just keep getting better, and I have a ton of new ones to brag about now too.
I'm totally proud of all the women that came to this year's outing including Cindy Golden, Vanessa Johnson, Linda Hall, Marilynn DeShano, Judy LaCourse, Mary Braun, Terri Mayer, Eyelund Lady (Mrs. Daniels our tourney winner!), and all the others who came without fear to the once man-only event! I know for a fact the men get a big kick out of fishing with us because we are fun out there, and we enjoy having a good time with them.
Lastly, a hearty thanks to all the great men for your fine appreciation and patience you extend to all the woman anglers. Due to your thoughtfulness and generosity, combined with our own true grit and bravery, the ranks of women walleye fishermen are finally starting to grow. I like that.
View the Get-Together Pictures
Home | Mainpage | Message Board | Chat Site | Pro Page | Sponsors

Copyright © 2000 Golden Coyote Incorporated